The Location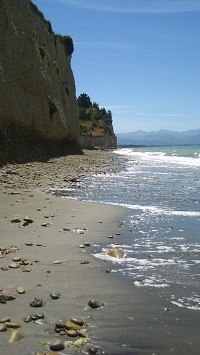 The most outstanding feature of Kina Cliffs is the unique coastal location. The vineyard is just a few hundred metres from the beach and is elevated to give views of Tasman Bay, Nelson, D'Urville Island, Abel Tasman National Park, Mount Arthur and the Kina Estuary. When you walk in either direction on the beach you are towered by the spectacular sea-washed Kina cliffs. The property overlooks the Kina Beach Reserve and extensive native plantings which are home to abundant native birds (who love our grapes too). It's a very tranquil, fresh, clean, coastal location in one of New Zealand's sunniest areas.
The location has many positives for the health of the vineyard and flavour of the wine. The nearby Kina cliff face exposes the Moutere clay gravel subsoil that also lies beneath the vineyard. Clay has good water retention during the summer months, so irrigation is rarely needed. The north facing slopes catch the afternoon sea breeze which promotes air-flow around the vines and minimises disease, as well as eliminating frost damage in the winter. The northerly aspect maximises sunlight penetration into the canopy, so accelerating fruit ripening. The maritime climate promotes diurnal temperatures (cold nights, warm days) that develop the complexity of flavours in the grapes.
The Vines
Kina Cliffs produces low yield, high quality, single vineyard wines from an area of 3.3 hectares. We grow Pinot Noir, Pinot Gris and Sauvignon Blanc. All vines are planted on devigorating phylloxera resistant rootstock.
The four clones of Pinot Noir are close planted with only one fruiting cane, to reduce yield and intensify grape flavour. This yield is further lowered by thinning the fruit by hand (down to 1 bunch per cane in half the vines). The Pinot Gris and Sauvignon Blanc are pruned to two or three canes and are also fruit thinned. Hand leaf plucking is tailored to each variety to promote air flow and sunlight penetration for even fruit ripening and complex flavour development.
We liaise closely with our local winemakers throughout the growing season to check on grape quality, ripeness and flavour prior to harvest.
Sustainable Winegrowing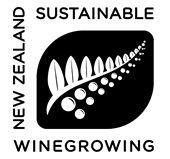 Kina Cliffs joined Sustainable Winegrowing New Zealand (SWNZ) in 2007/2008 and was accredited in 2008/2009. This programme was developed and implemented by New Zealand Winegrowers, the organisation that represents the collective interests of grape growers and wine makers. It aims to:
Provide a "best practice" model of environmental practices in the vineyard and the winery
Guarantee better quality assurance from the vineyard through to the bottle